Introduction
SureView's Mobile App is the modern solution for fostering communication across your security team. Patrolling guards receive push notifications after being dispatched to an event. Directions are automatically provided to the guard, along with any notes attached when the event was created.
Guards and operators can communicate in real-time, using both text and images. These messages are all logged to the audit trail of the event, as well as information on who was dispatched and when. Users can even manage their availability directly from the app, ensuring operators only dispatch the appropriate individuals.
Before utilizing the mobile app, it's important to create a set of call signs for your Users to adopt for each shift. Call Signs are placed within a Patrol Zone to specify their expected positions. This is handled in the Dispatch Setup page, found in the menu in the upper right. The page looks like this:

Adding Call Signs
The list of Guards is shown on the left, and a map of your Patrol Zones is shown on the right. To add a new guard, click the

button in the upper middle of the page. This will bring up the following menu in the lower left corner:

Give your guard a Call Sign and press Add.
Creating Patrol Zones/Posts
To Create a new Patrol Zone, click the

button in the upper right corner. This will present the following menu where you can give your Patrol Zone a title:

Before hitting save, you must define the boundaries of this Patrol Zone. Press the

button and type in the address of the site you wish to create a Patrol Zone within/around. To define the Zone's boundaries, begin clicking around the border of the area.
You can create an arbitrarily sized polygon to perfectly fit the desired region. To finalize the boundaries, simply complete the polygon by clicking back on the same spot you started.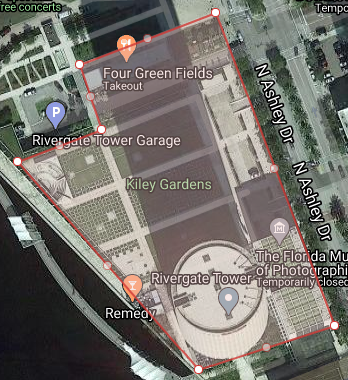 Afterwards, hit Save to complete the Patrol Zone. To assign a Guard to a Patrol Zone, simply drag the desired Call Sign from the left side of the screen onto the right, taking care to place them within the Patrol Zone in their designated area.
Creating Mobile Guard Accounts
While creating user accounts for your mobile guards, be sure to check the Mobile Enabled box to denote the user as a Guard and grant them access to the app.