The Field Operations Desktop interface allows operators in the command center to communicate quickly with teams in the field who are nearby an incident or share them as part of a response to an event. Operators in the SOC can quickly see the status of all their key assets on the universal map, chat and interact with mobile users and receive real-time status as change happens in teh field.

To access the desktop interface - select Field Operations from the main menu


The interface is broken up into 2 main sections - the interactive map on the right-hand side and the status bar to the left.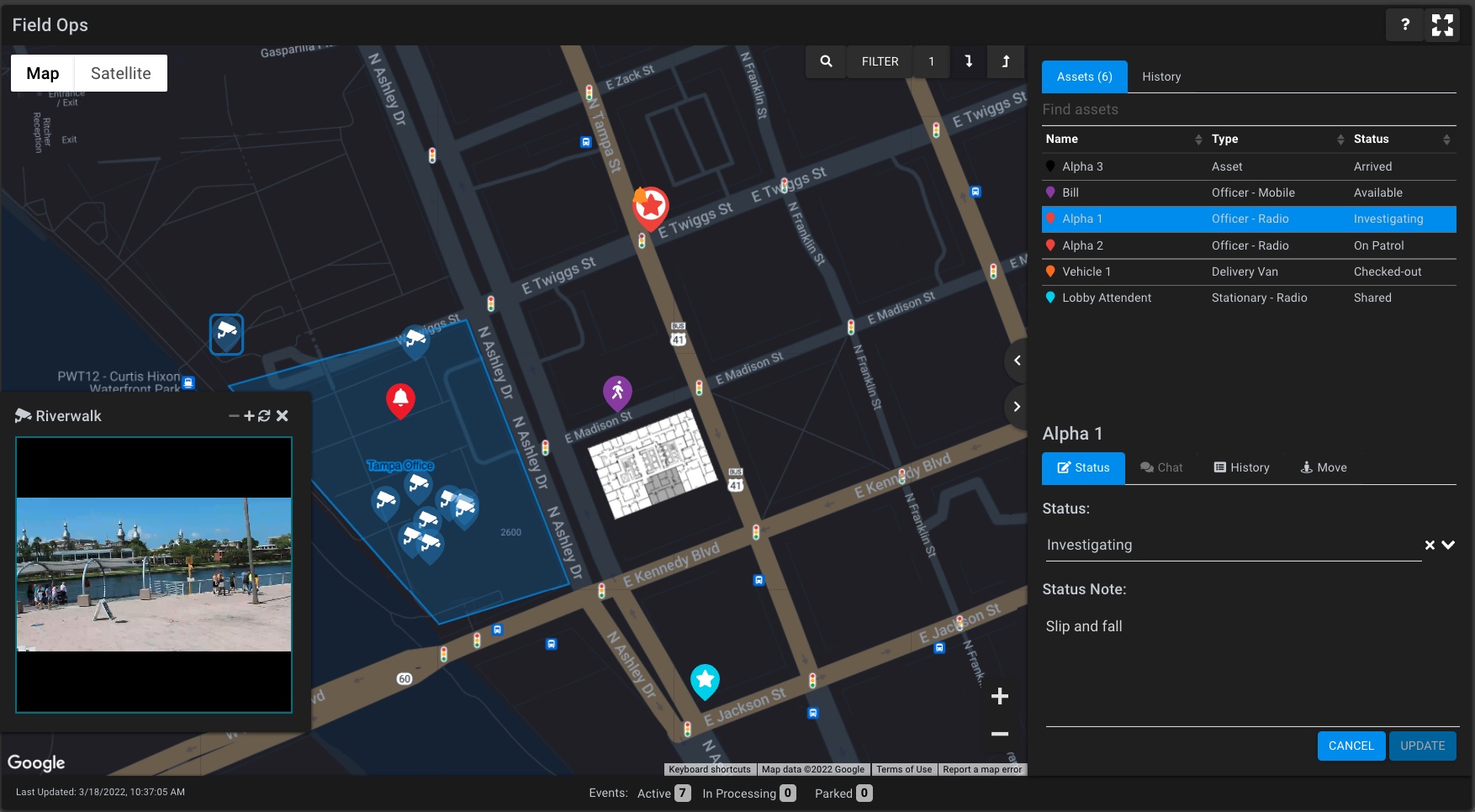 Interacting with the map
The map in the Field Operations desktop interface is the same map used throughout the Response interface - it uses the familiar Google Maps UI and allows the user to view floorplans, devices and assets in one place.


The location of assets (not including mobile users) on the map can be changed by simply holding down the mouse over the icon (grabbing the icon) and dragging the icon to a new location. This is especially helpful when officers use traditional radio reports in their current location. When the icon is dropped onto a new location on the map this is updated on every other user's map with SureView. 
Interacting with Assets
The left-hand side menu contains a list of all your assets with their current status. Clicking the history tab lists the history of all status changes for all assets.

Clicking an asset from this list will center the map on that asset location. It will also toggle the asset menu at the bottom of this window. Operators can:
Update the status of the asset

Selecting a status type from the drop-down
Provide a note of why the status of the asset has been changed

Chat (with Mobile users)

This opens a direct chat with the selected mobile user

History

This provides a filtered view of the audit history of this asset

Move 

Operators can quickly move an asset to a defined "Area" or location - without drag and dropping the icon