Introduction
SureView Ops provides a number of predefined RTSP integration types however, there may be instances where you have a device that is not in the list.
In these cases you can use the RTSP integration which allows you to view any RTSP video stream simply by providing the RTSP URL.
Requirements
To use an RTSP video stream:
Your device or system must have an RTSP URL which...

is Static (does not change each time you need to connect)
works in VLC (if it does not work in VLC then it will not work in SureView Ops please contact your manufacturer)

Your device or system's RTSP port (default 554) must be accessible from your Ops Link
Finding your RTSP URL
To use the integration you will need to know the static RTSP URL for your device or system.
You can find this in a number of places:
From your manufacturer: In the documentation or website provided by the manufacturer of your security device
Online search: There are a number of online lists that provide RTSP URLs for common security manufacturer devices (do a Google search for "YourManufacturerName RTSP URL")
Using a network search tool: Use a network search tool such as the ONVIF Device Manager to find cameras on your network
Note: some systems use "dynamic" RTSP URLs which have to be requested before you connect and are different every time. These types of systems are not supported by SureView Ops, please contact your manufacturer.
Testing your RTSP URL
You should test that your RTSP URL works before you enter it in SureView Ops. To do this you can use the free open-source VLC Media Player program. Go to Media -> Open Network Stream and provide the RTSP URL for your camera in order to check that you get live video.
NOTE: If your camera does work in VLC then it will not work in SureView Ops either. In this case contact your manufacturer to have them help you to find a working RTSP URL.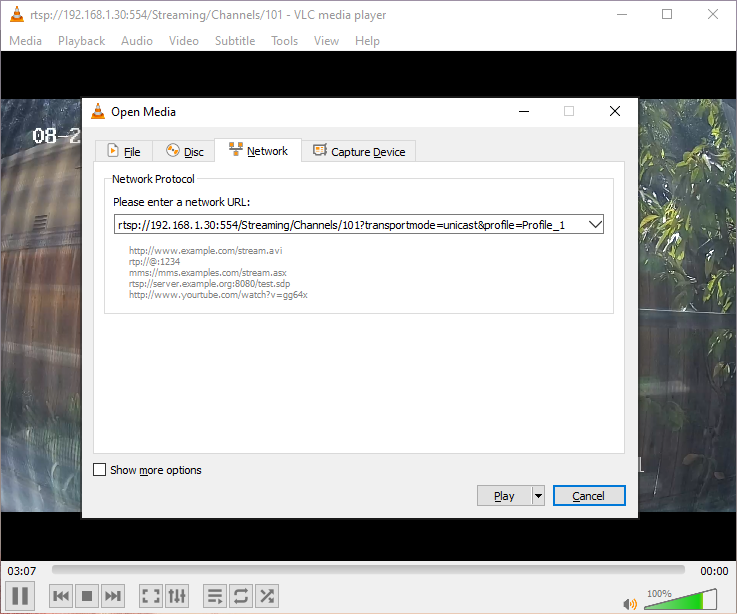 Adding to Ops
Go to the Device Setup screen and add a new device. You will need to provide:
Device Type: RTSP
Appliance: choose the appliance connected to the network the device is on
Host: the network address of the device
Port: the RTSP port (usually 554)
Username: the username for the device
Password: the password for the device
RTSP URL Ending: the "PathAndParameters" part of the RTSP URL
For example, for the RTSP URL ofrtsp://192.168.1.30:554/Streaming/Channels/101?transportmode=unicast&profile=Profile_1: the Host is 192.168.1.30, the Port is 554, and the URL Ending is Streaming/Channels/101?transportmode=unicast&profile=Profile1