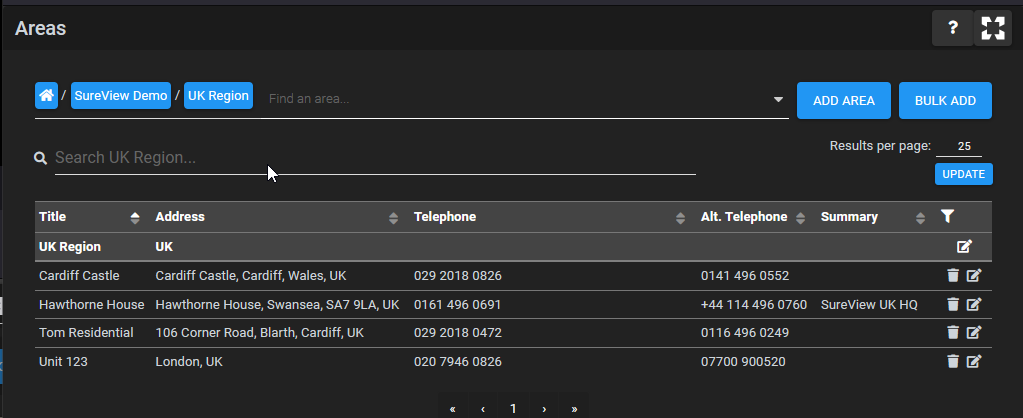 Areas represent various levels of monitored zones or sites. Structure can vary based on your preferences and complexity of the system. Areas can also be organized in a nested structure to allow for easy navigation and inherited permissions.
An Area can be a building, a facility, a floor, or space in a large building, it can be... anything. It's unique to each organization so be as specific as you like
You can get to the Area Setup Screen by using the Menu (in the top right corner) and clicking "AREAS"

It's recommended to plan out your Area Structure before adding them into SureView Ops. For Example:
SureView Demo
--------UK Region
---------------- Cardiff Castle
---------------- Hawthorne House

---------------- Tom Residential

---------------- Unit 123

--------USA Region

---------------- Tampa Office

---------------- San Francisco Office

Managing Areas
Add a new Area
Edit an existing Area

Delete an existing Area
You must delete all Child Areas before deleting the Parent Area


IMPORTANT: Deleting an Area is non-recoverable. All history, alarms, devices and anything else associated with that area will also be deleted.
Area Properties
Below is a list of the available fields that can be entered when adding or editing an Area
Field
Description
Title
(Required)
The Name of the Area - This is what will be shown to Operators and be included in Report information. It's what all users will use when searching for this particular Area
Reference ID
(Optional)
This is a free field that can be used for your own internal IDs or Codes to represent the Area. This ID is then shown in the relevant reports along with the Area Title
Address
(Required)
The Physical Address of the area - Ideally this address should be compatible with Google Maps
Latitude and Longitude
(Required)

The exact coordinates of the Area/Location. This can be entered manually by pressing the edit button or automatically based on the Address using the Map Button e.g. 27.947531, -82.458132

= Enter Latitude and Longitude Manually

= Load the Latitude and Longitude using the Address and Map

Telephone
(Optional)

The primary telephone number for the Area

Alt. Telephone
(Optional)

The alternative telephone number for the Area

Telephone Fire
(Optional

The phone number that should be called in the event of a Fire

Telephone Police
(Optional)

The phone number that should be called to contact the local Police

Time Zone
(Required)

The Local Time zone of the Area.

Parent Area
(Required)

When creating Areas, you must select a Parent first; your selected Area becomes a sub-Area of it. Your Global or Tenancy Area is the first option, followed by any Parent Areas you have created. All Areas created in the system can be selected as a Parent allowing you to build your system with as much simplicity or detail as you need.

In the Structure example at the top of the page Cardiff Castle has the Parent Area of "UK Region" which in turn has the Parent Area of "SureView Demo"

SureView Demo (UK Region's Parent Area)


--------UK Region (Cardiff Castle's Parent Area)

---------------- Cardiff Castle

Manual Tour Action Plan
(optional)

This allows you to define an Action Plan that should be followed if an Operator performs a Manual Tour (opening the Area directly, without an alarm). See Action Setup for more details

Summary
(Optional)

Any additional notes or information needed such as security, alarm companies, or hours of operation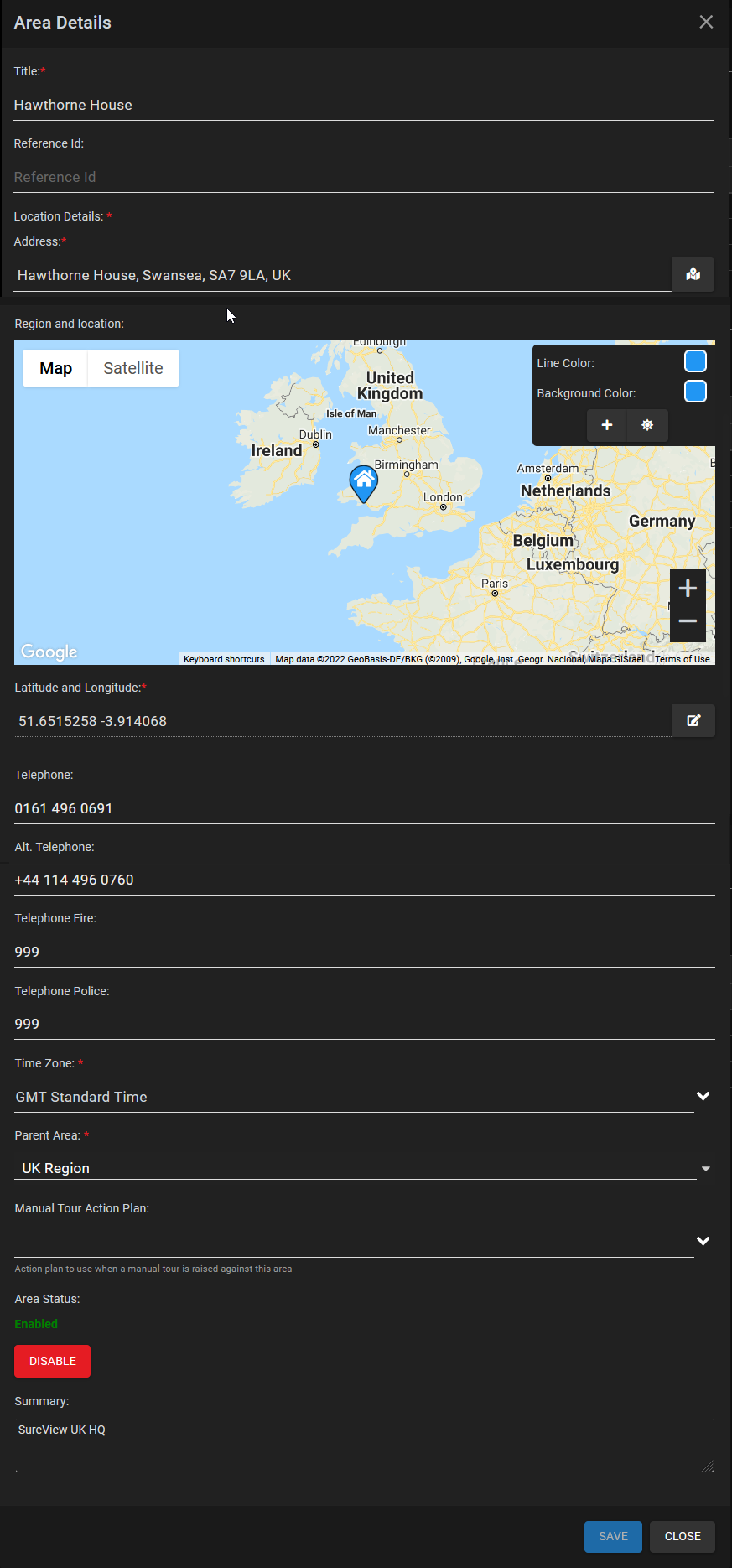 Operator View
Operator can see the details of the Area (Title, Reference ID, Address, Telephone Numbers and the Summary Notes) when they are handling an alarm or performing a Manual Tour. To view the Area's contacts the Operator needs to click on the Area Name (top left corner of Site Monitor). When clicked the Area details window, which includes all the Contact information, is displayed.