Requirements
Subscription
To access this page your SureView Ops account will need the Video Module enabled.
Ops Link
You need at least one Ops Link device connected to the same network as your cameras.
Permissions
To access this page the user will need the following permissions enabled (included in the "Admin" user role)
View area configuration
Edit area configuration
Edit device configuration
Device Setup

The Device Setup screen allows you to add and configure RTSP H264 Cameras for your different Areas. Most modern IP Cameras support this standard but if you are unsure please check your device's technical specifications.
Before you get started you need to have connected your Ops Link to your camera's local network. If you don't have one yet please read through the Ops Link support page and then Submit A Request asking for an Ops Link and providing the shipping address to send it to.
Note that there is a One-Time Cost associated which will be added to your subscription.
You can add new devices using the "Add Device" button; edit already existing devices by clicking the edit button; or permanently delete devices with the delete button. Once cameras have been set up, operators will be able to view them when Handling an Alarm by using the Media Matrix Popout Window.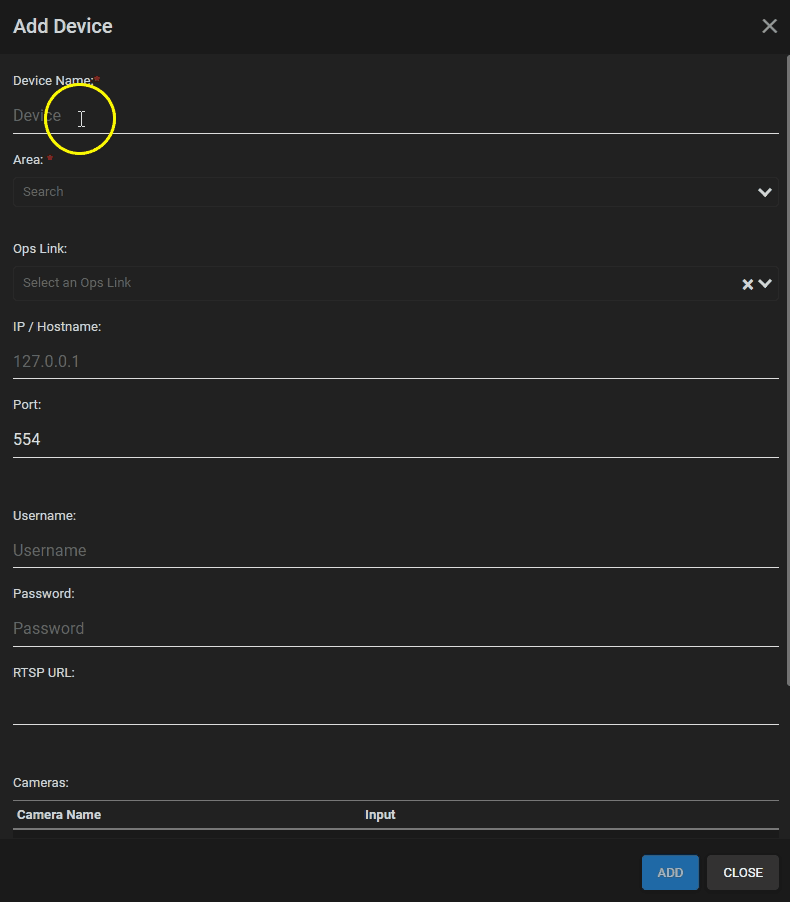 Video Device Fields
The available configuration options for Video Devices are:
Device Name
The friendly name for the device


Area
The area this device will be associated with.


Ops Link
This is where you select your on-premise Ops Link device. Please see the Ops Link Support Page for details


Host
The Local/Internal IP Address of the device you are connecting to e.g. 192.168.1.20


Port
The port number that's used by the device. This should be the public/external Port that the camera is listening on. By default RTSP H264 Cameras listen on port 554


Username
The username of the device you are connecting to.


Password
The password of the device you are connecting to.


RTSP URL
This is where you put your camera's RTSP URL. IF you don't know your RTSP Cameras URL please see the RTSP Direct support page for advise on how to find it,


Cameras
The Cameras section allows you to add, and name the individual cameras that are associated with this device. If you are connecting to a single "IP Camera" this may be as simple as adding one single camera to the list.



Camera Name
The friendly name of the camera—this is what will be displayed to Operators in the Media Matrix screen (By default it will match your Device Name)


Camera Number
This is the Camera Number (starting at 1 and increasing as required).


Camera Preview
This will connect and show the live camera stream.


Camera Delete
This will delete the individual camera and remove it from the list