What is an Ops Link?
An Ops Link is a small, secure, device which streams the video from your on-premise cameras to Ops so you can view it.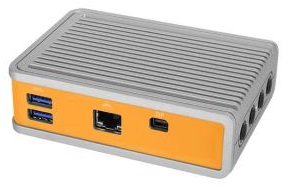 Is it secure?
Yes, your camera streams are encrypted using industry standard 2048-bit encryption and sent, using the latest TLS v1.2 protocol, to the Ops servers—which are secure and hardened to PCI v3.2 compliance.
How many do I need?
You will need one Link per separate network where cameras exist. So:
If you have one location that is able to access all cameras (such as your security office or a datacenter) then you only need one Link there.
If each location containing cameras has its own network you will need one Link per location.
How do I obtain one?
Please contact Customer Support and ask for an Ops Link and provide the shipping address we can send it to. Note that there is a One-Time Cost Associated which will be added to your subscription.
What does it require to operate?
The Ops Link device requires the following:
Power via the included power adapter
Ethernet connection to a network which provides the following:

DHCP to assign it an IP address
Access to your cameras
Access to the internet
What do I do when I receive it?
The box contains an Ops Link and a power adapter.
Please connect the power adapter to the Ops Link and plug it in, and use an Ethernet cable to plug it into your network. It should automatically turn on showing a white light above the On/Off button, but if not press the button to switch it on.
It will receive an IP address automatically from your network via DHCP and establish an encrypted connection with the Ops system. Shortly afterwards it will appear in your Ops account for use with cameras.

How do I receive support?
If you have any issues with your Ops Link please contact Customer Support providing the serial code shown on the large sticker on the bottom of the device (not from the smaller sticker on the side) usually appearing as a "U" followed by 6 numbers i.e. "U000001".