The Alarm map is shown on the Alarm Queue screen, and shows the location of all Alarms in the current filter.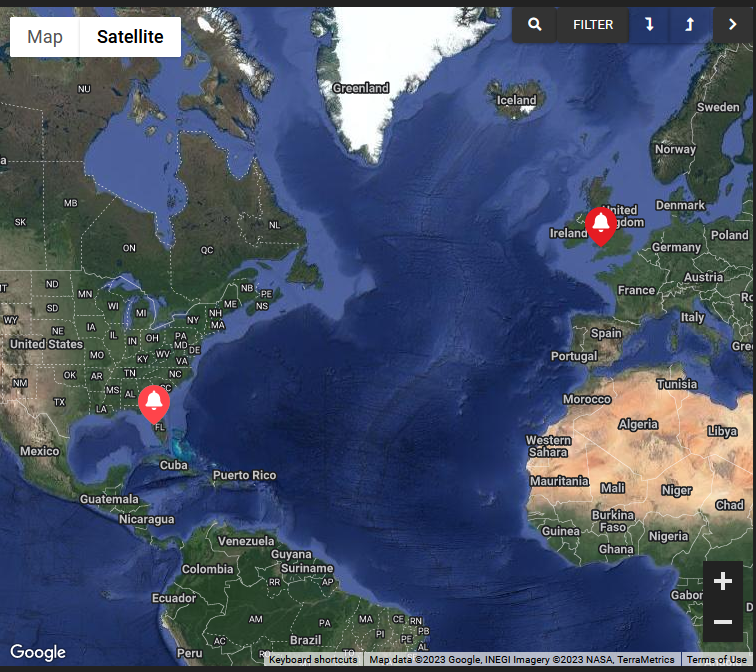 Alarm Location Detection

SureView will automatically detect the location of each incoming alarm to display on the map.  The location is taken from one of the following properties (in priority order, from most specific to most general)
Location included with the alarm
If the actual alarm data contains location data (such as an alarm contain latitude,longitude values in the data) this will be used to plot the pin.


Plotted Alarm Point
If the individual alarm point has been manually plotted using the "Map Setup" then this location will be used.


Area Location
The location of the Area that the alarm is associated with (based on the location configured in Area Setup)
Map Pins

Icon
Name
Description / Action

Camera
Location of a Live Camera - clicking this will pop-up a camera preview window.

Active Alarm
Location of an alarm that is currently in the queue waiting to be processed. Clicking this will open the alarm for processing.

Acknowledged Alarm
Location of an alarm that's being actively processed by an operator or has been temporarily parked.

Audio Device
Location of an audio device (such as a loudspeaker or intercom). 

Door / Relay
Location of a relay (often a controllable door)

Outputs
Location of an output device. These are often devices that can control additional output functions such as triggering an audio siren.

 

Field Ops Mobile User

The location of any logged in Mobile User who is sharing their location

Field Ops Asset
The location of any manual Field Ops "Asset" that has been plotted in the Field Ops screen. e.g. a Guard Posts

Region
The Region of your Area - these are plotted in the "Area Setup" screen and allow you to add a bounding area around your area to define it's borders. This includes a label with the name of the Area
Map Search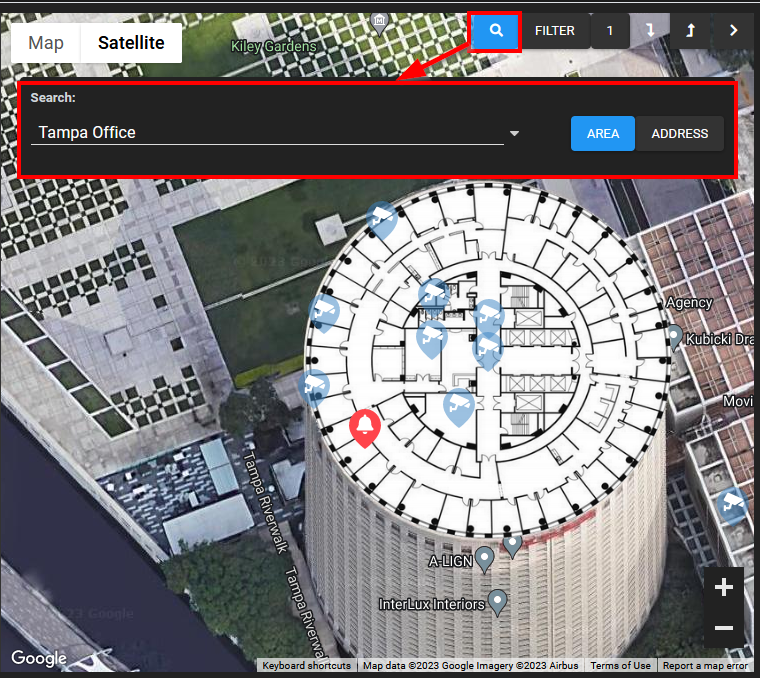 Clicking the Search button on the map allows the user to search by Area Name or by Address
Map Floors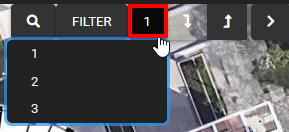 Clicking on the Floor Number or Label will show a drop-down list of the available floors within the current view. The user can then click on the appropriate floor number / label to switch the map to view that floor.
The map will then show the appropriate floor plans and map pins associated with that floor.

Users can also use the Up and Down arrows to navigate up and down floors incrementally.
Hide the Map
On smaller screens you may want to hide the map so more screen space can be given to the alarm queue. To do this click on the Map Hide button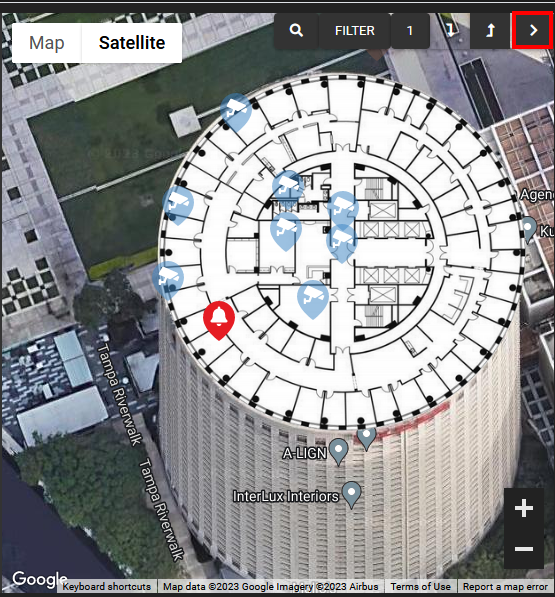 To show the map again, click on the Blue Show Map button,